The most popular alcoholic beverage – beer – has a pleasant aroma, rich flavor, the ability to refresh. And a lot of varieties! There is a variant to everyone's liking. The main thing is not to commit a crime against the foamy treasure, tasting it straight from the bottle or can, pouring it into a plastic glass or other inappropriate container. This is disrespectful to good beer and to you.
Not a marketing ploy, but an urgent need
Different beer is drunk from strictly defined glasses and mugs, the shape of which contributes to the disclosure of the hop bouquet. If you do it right, the foam will last as long as necessary, the bitterness will be delicious, and the consistency will seem creamy, velvety, airy or thick caramel with a delicate aftertaste – just the way you like it.
Just do not accuse the "beer experts" of snobbery. No one insists that you drink only from your "native" glass or mug. Just remember: some types of utensils are more suitable for some types of this drink than others. This is an objective reality because:
The size and width of the mug, as well as the thickness of the glass, affect the flavor unfolding process and the stability of the foam.
The shape of the glassware ensures that the alcohol interacts with the taste buds, "sending" it to the right area. We "catch" sweetness with the tip of the tongue, sourness with the sides, bitterness with the base and salt with the center.
As you can see, no advertising gimmick, pure science. All that's left is to figure out which glasses and mugs you need.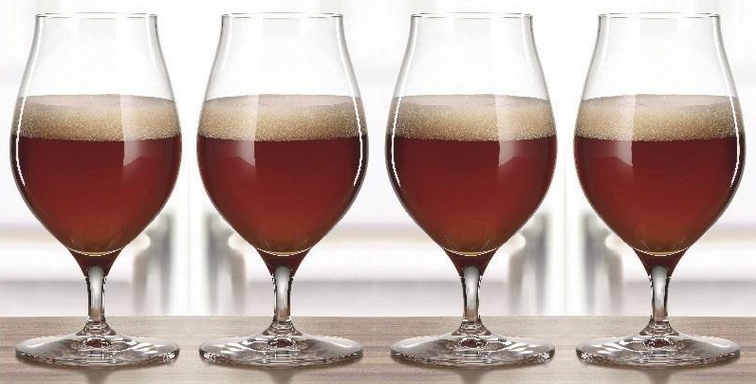 7 glass molds and what you pour into them
Almost all Belgian breweries have branded containers with their logos, and there are over a hundred models! We're going to focus on the 7 most practical and widespread forms of glassware, and at the same time tell you what kinds of beer are usually poured in them.
Pint. A big glass with a wide neck and a slight narrowing to the bottom has two standard sizes – 0.5 liter (American Tumbler) and 0.6 liter (British "Royal" Nonic). There is also the German Becker with a fairly narrow neck. The pint is easy to produce, simple to operate and store, and it is suitable for pale, cream and pumpkin ales, non-strength lagers, various types of stout, porter and English Bitter.
Pilsner. Taller and thinner than a pint, has a cone shape and a capacity of about 0.36 liters, contributes to the maximum long-term enjoyment of the foam "cap" and taste, enhances flavor, emphasizes the clarity and sparkle. European variety of pilsner is recognized by a small foot. Light drinks such as American, Baltic, German and Czech Pilsner, as well as lagers, are served in such a container.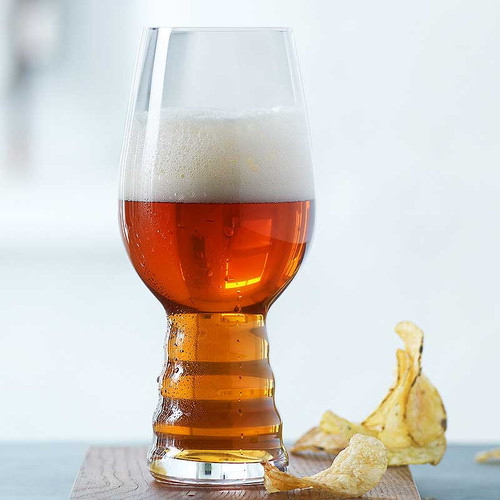 Snifter. Classic cognac glass can be used not only for its direct purpose. Its clever design enhances the mesmerizing aroma of the drink and the sensation when sipping, favoring a leisurely tasting of strong Belgian ales, barleywines, quadruplets, doppelbock, imperial stouts and porters – in general, all styles stronger than 7%.
Tulip. The bulbous shape and edges resembling slightly bent flower petals are appropriate for varieties that are profusely foamy when poured. At the same time, the puffy underside of the glass contributes to the retention of VOCs – volatile organic substances. Tulip is ideal for saison, pale, Flemish red and brown ales, lambic and geuze.
A glass for India Pale Ale. IPA beer is a traditional British ale with a fair share of hops, which requires a special approach to demonstrate its complex and seductive character 100%. The benchmark in this category is a product of the German company Spiegelau, namely a special glass for IPA beer, developed in collaboration with representatives of the best breweries in the world. Original glassware with thick walls conveys all the shades of pale ale and keeps its original temperature for a long time.
Cup. It makes you feel like you're tasting divine nectar with the characters from Game of Thrones. The cup looks noble, pompous and regal, and its wide shape helps to maintain foam and allows you to take a big, deep sip, instantly quenching your thirst. Have a Belgian ale, a German stout, a Berliner Weissbier or a Quadrupel from the cup.
A mug. You can't go without it. A massive, sturdy, with a comfortable handle – a mug holds a lot of liquid and gives the opportunity to clink with friends. It would be an honor to give such a mug to a true beer lover, especially if it were a true work of art made of lead-free crystal by Nachtmann. Enjoying American and German ales and lagers he will think of you every time.
Having all the above-mentioned kinds of dishes in your arsenal at home you will be able to appreciate and taste almost any kind of beer. In addition, beautiful glasses and mugs will help you get aesthetic pleasure from tasting.
When you want everything at once
Let's say you are not in the mood for a long collection of beer – item by item. Or you are not ready to study in detail the properties of different kinds of beer, guessing in what kind of mug they should be poured. Or are you planning to make a great present to a specialist, realizing that you are not very good at beer. There can be many reasons to pay attention to the collection Beer Classics from Spiegelau – we will not enumerate them all. And the perfect combination of forms, and the crystal transparency of the purest lead-free crystal, and the real German quality – everything works for you.
The Spiegelau brand offers four hits: tulips, IPA glasses (the same ones we mentioned above), pilsner and pint glasses, as well as classic mugs. Made in the same minimalist style, but different in design, they are designed with the most important characteristics in mind and have exemplary volume, height and wall thickness. As a result of painstaking work of experts, you see the rich color of the beer, feel its captivating fragrance, take the first sip and realize: here it is – bitter hops, sweet malt, spice notes, refreshing herbaceous and fruit hues, honey or caramel flair…
Beer Classics sets from Spiegelau are an occasion to get together, release the beloved drink from "bottle confinement" and finally relax, savoring every minute and every nuance of natural aroma and flavor.