New Year's Eve is always prepared with special trepidation, thinking about the menu and table decorations. We want the holiday to be magical and leave a pleasant aftertaste. Where do you want to start? Decide on a style first, and we'll help you with serving ideas!
The magic of classic style
Classic style is always in fashion, especially if you complement it with modern details. White is a perennial favorite of classics, so don't hesitate to consider the china shade. White and only white! However, the dining set, decorated with discreet floral ornaments in delicate pastel colors is quite in harmony with this concept. You can put light accents of color, using for serving dishes dishes fashionable shades – blue, mint or pink. Don't forget the mirror polished cutlery by Robert Welch, the elegant champagne glasses and the sparkling clear crystal tableware by Nachtmann which is indispensable for the Classical New Year. Complete the exquisite serving with openwork napkins, antique candle holders, statuettes and a Christmas bouquet in a crystal vase. The winter fairy tale begins…
Greeting the Year of the Water Tiger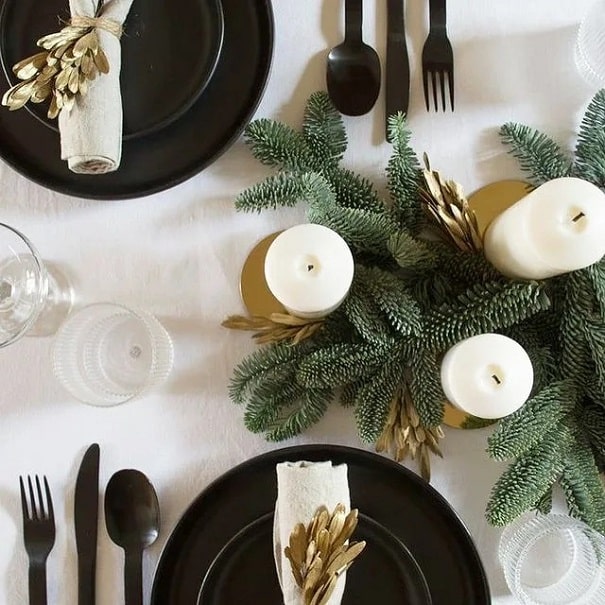 The symbol of the year 2022 is the Blue Tiger, also called the Black Water Tiger. Astrologers unequivocally recommend using tiger black and golden hues in serving to gain the favor of this animal. Take a closer look at black tableware – it's gorgeous! Elegant black porcelain plates with embossed surface are impossible to take your eyes off. And we also have black ceramic salad bowls, vases, dark and golden glasses, cutlery, pots and tableware accessories for serving dishes. Very stylish look black tableware with gold decor, napkins, candlesticks and sculptural compositions, sustained in the same palette. In addition, the color gold is a symbol of wealth and prosperity, and it is associated with the holiday like no other…
Nordic chic Scandinavian style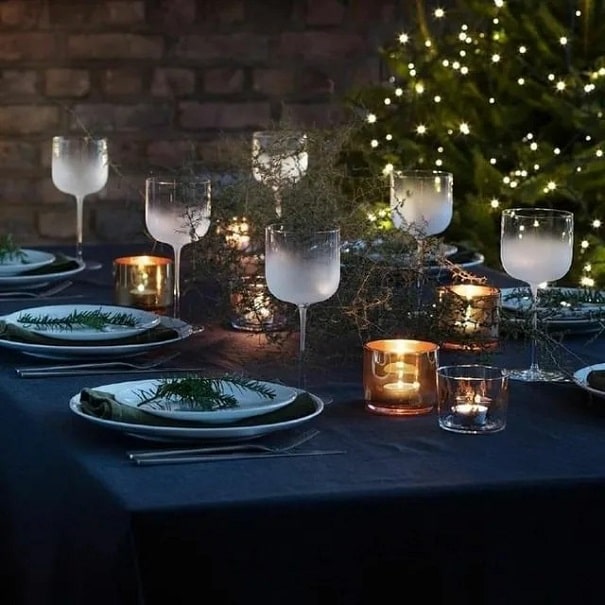 New Year's Eve is a family holiday, and many people want to spend it in an atmosphere of comfort, peace and warmth of mind. A Scandinavian-style tablecloth, which is in keeping with the philosophy of hygge, is ideal for this idea. Use tablecloths and napkins made of natural fabrics – such as linen or cotton. Otherwise, stick to a moderate minimalism, which is characterized by a natural palette of colors without bright and flashy colors, lack of decorative extravagance and pretentiousness, smooth lines and quiet harmony of forms – in general, the refined simplicity. Viva Scandinavia tea tableware in terracotta, beige and green shades, supporting napkins of leather and laconic LIND DNA candlesticks of chrome steel in silver and gold design, WMF wine accessories and tableware from Eva Solo are suitable for serving. The decor of Christmas sprigs and lights without any brightly colored Christmas decorations and balloons complete the meal.
Feast in the Scandinavian style will give a sense of serenity, will help to relax after a hard month of work in the circle of people close to you and feel really happy.
Glamorous luxury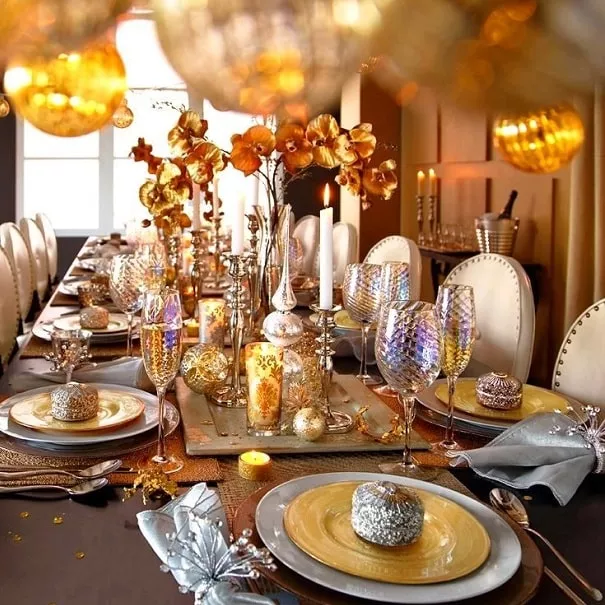 New Year's Eve table in glamorous style will be appreciated by all lovers of elegance and chic. This style is characterized by bright personality with a touch of epatage and eccentricity, emphasized decoration with elements of pretentiousness, glitter and shine. Steel bowls decorated with olive wood, handmade soufflé bowls with golden finish, dishes in the form of leaves and other products by Michael Aram brand are real works of art, the very sight of which already creates a festive mood. You can't go without Migliore bar glass with its extravagant forms and 24-karat gold plating – alcoholic drinks in such glasses and decanters look very fabulous. Complete the serving with a collection of copper tableware Ruffoni Historia Decor – for example, champagne is better chilled in a copper bucket decorated with oak leaves and acorns, paella can be served in a stylish copper sauté pan. But the real gem of the table is Dibbern Golden Forest crockery made of dazzling white porcelain with golden, whimsical tree decorations. Complement the serving with candlesticks, statuettes and original accessories. Forget about minimalism and let yourself sink into luxury!
Elegance in English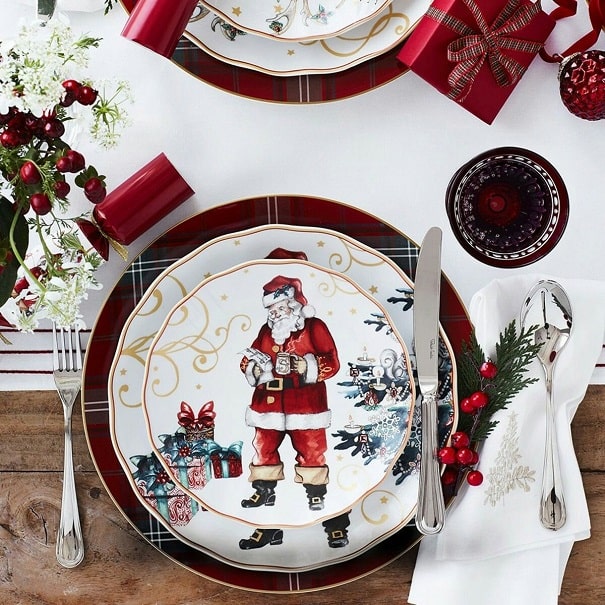 The English style of serving represents cozy restraint with a touch of retro. Many people accuse the English of prim and conservatism, but it is manifested primarily in the love for all natural things and the absence of unnecessary decorations. A tablecloth from linen or cotton in Scottish checks will create the base for English serving. It is completed by elegant tableware from Spode made of earthenware with a motif on the theme of country life, charming plates and Royal Worcester mugs with watercolor paintings of animals by artist Hannah Dale and refined glasses of multicolored glass in pastel tones. Silver-plated trays, dishes, marmites, menagerie, vases, shelves, candy holders made of stainless steel by Queen Anne embody a purely English approach to life: luxury in simplicity. Don't forget about candleholders and napkin holders with similar design, and place a composition of fresh flowers and spruce branches in a stylish handmade vase.
Brutal loft charm
New Year's Eve in loft style… Why not, if you are a fan of this style. The loft is an American take on interior design that emerged at the beginning of the last century, when buildings of abandoned factories began to be converted into housing. The loft is characterized by a combination of industrial principles with modern design ideas. How can this be realized in the holiday table setting? Do away with tablecloths, placing dishes directly on the table top, or use a tablecloth and napkins made of deliberately rough fabric – linen or organic cotton. Classical loft style welcomes roughly finished surfaces and in boho-loft the elements with embossed patterns are acceptable – this also applies to tableware, decor and furniture. The dishes are the simpler the better; the main thing is not to use artificial materials. A lot of glass and shiny metal, monochrome ceramics with an emphasis on shades of brown, black, gray and white, clean lines and minimalist design are all found in products by Bodum, ASA Selection, LSA International and WMF. Rough ceramic plates, salad bowls and mugs should be complemented by a sleeker glass candy bowl and a steel vase with a mirror surface of unusual shape – the fruit in it looks like designer objects. The table can be decorated with glass candlesticks without decorations and a bouquet of spruce branches.
Romance of Provence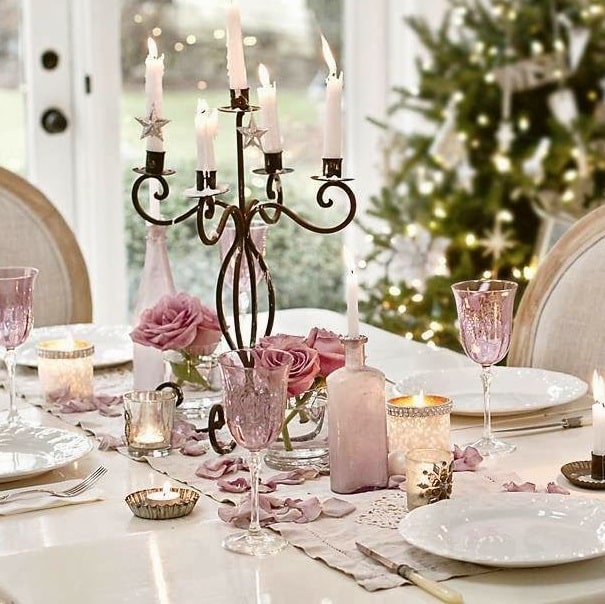 Provence is the charm of French antiquity, so a New Year's Eve tablecloth in this style will transport you to the pastoral, rural setting of the French south. The tablecloth can be delicate shades with embroidery and lace or monochrome and not bright, with a track in the center. Tableware can be white, beige or blue and blue, with a vintage patina and discreet floral designs. The most suitable collections can be found in Easy Life – they create a sense of carefree rural life and harmony of life. Look at plates and salad bowls decorated with sunflowers, cyclamen, poppies and pansies – they do not have any pretentiousness and ostentatious luxury. On the table there are bouquets with lavender flowers and small fir-tree compositions, and between them – shabby antique candlesticks, embroidered linen napkins and pretty ceramic figurines. Greet the New Year with French charm!
Whatever style you choose for New Year's Eve serving, the most important thing is a good mood and a positive attitude!