Ice cream and sorbet are no longer exclusively a summer treat: you can indulge in a delicate creamy or refreshingly fruity taste in the inclement weather with a hot coffee, and in the New Year's holidays after a hearty dinner.
With the ice cream maker, you can easily make this dessert at home, according to your taste, using seasonal fruits and berries, exotic fruits, nuts, chocolate, even red chili peppers for spicier fans. And thanks to the variety and convenience of silicone ice cream molds, you can create unique color combinations, patterns and shapes of your desserts.
Tasty and beautiful is only one of the advantages of handmade ice cream. It has other advantages, which also become arguments in favor of buying an ice cream maker and molds.
Homemade ice cream is the most natural and fresh product, made to your taste.
Homemade ice cream has no dyes or flavorings, it is a natural and safe dessert, which (choosing the composition) can be given to small children, allergic and suffering from intolerance, for example, lactose and fructose.
Homemade ice cream is freedom of creativity. You can freeze not only the classic plombir or sorbets in the forms. An excellent treat is obtained from freshly squeezed juices with pieces of fruit, from yogurt with chocolate, from Sprite with jelly bears. And how many impressions are given by unusual tomato ice cream with basil, lemon ice cream with ginger, or frozen vegetable smoothie. There are tons of recipes, both classic and exotic, freely available on the Internet.
What are the different kinds of machines
Semi-automatic – equipped with a removable bowl, which must first be kept 12-24 hours in the freezer. After that, the mixture prepared according to the chosen recipe is poured into a cooled container, and the freezer is plugged in and automatically kneads the dessert to the required consistency, as a rule, within 20-40 minutes.
Automatic (compressor) – equipped with a built-in refrigerator, thanks to which the desired temperature of the bowl is achieved in 5-10 minutes after turning on. Then, the familiar procedure – the mixture is poured and cooked to the desired consistency.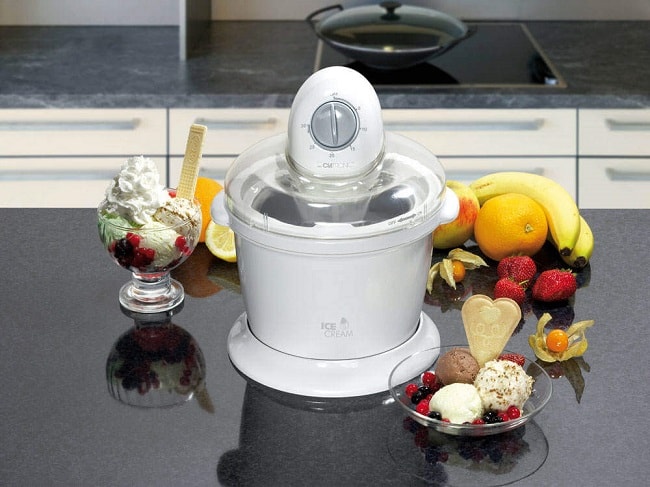 What are the ice cream popsicle molds
Silicone ice cream popsicle molds are portioned. This is the most popular option in families with children, with their help you can prepare popsicles on a stick, fruit ice, ice cream in the form of flowers, animals, etc. Frosting molds are made of food-grade silicone: it is inert, safe and does not emit any harmful substances. Silicone does not absorb and transmit odors and flavors, is not afraid of freezing – even after several days in a powerful freezer remains plastic, and the finished ice cream is easy to remove.
Compact tabletop ice cream makers. This is a portioned dish, equipped with a removable bowl, which should be kept in the freezer beforehand. Then the mixture is poured into the bowl and stirred with a special spoon for 10-15 minutes until the dessert is ready.
Ice cream serving utensils
Traditionally, for serving ice cream, cremains, vases or rosettes, low or high-stemmed, glass, plastic or metal are used. The finished product is placed in them with a special spoon, which gives the dessert in the form of appetizing balls, and decorated to taste with sauces, gravy, toppings, fresh or canned fruits and berries.
Ice Cream Dishes
The variety of silicone molds for freezing portioned ice cream is impressive. You can choose a classic shape: the finished cold treat will be in the form of a popsicle on a stick – a cone or a trapeze. For example, the Single Quick Pop Maker from Zoku or the Summer Pop of the same brand.
Children love ice cream in the form of figures, and even more so when it is prepared by their own hands! Owls, pussycats and full and satisfied dinosaurs – children will love to please themselves and their friends with bright tasty figures!
For those who prefer to eat ice cream from classic creamsicles, the American brand offers the Ice Cream Maker model. Here the freezing is done according to the traditional recipe – with stirring. In the same bright dishes, ice cream can be served, further decorated with chocolate, nuts, cookies, fruit, and toppings.
For fans of experiments, unusual accessories, and just for those who like to do something original, the Quick Pop Tools set for making ice cream. With it, the flight of ice imagination is inexhaustible! Ice cream with a beveled angle – in a special stand, the forms are placed so that the finished candy gets an unusual look. Or use templates for cutting out shapes of fruit (or vegetables – why not?), put them in the mold, pour the basic mixture for ice cream, and then amaze your guests with an unusual dessert.